Yee haw! A cowgirl party is so much fun and can be easy to do. If your little girl is looking for a cowgirl or rodeo birthday party, then look no further. These creative invitations will build excitement and can increase attendance at your child's cowgirl party.
You can either create a rustic/vintage rodeo themed party or make a super sweet pink cowgirl theme. Either way you can have a lot of fun with this themed party.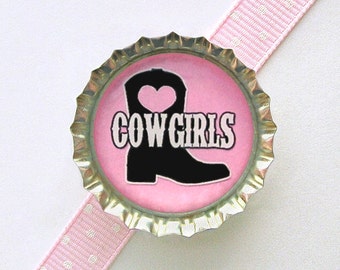 In addition to basic party supplies, like plates, cups, napkins, and decorations, you may also consider purchasing or renting the following items:
Bales of hay
Cowboy hats
Sheriff badges
Red bandanas
Prizes for the party games
Disposable Cameras
You may also want to consider hiring someone to bring a horse to your party for the children to ride.
Cowgirl Food Ideas
It's always fun for the host and the guests to serve food that correlates with the party theme. Here are some ideas for Cowboy Party food:
Make a sign from poster board that says "Grub" and hang it from the food table.
Serve traditional cowgirl fare, such as Sloppy Joes, chili, grilled hamburgers, chicken drumsticks, and hotdogs. For sides, include baked beans, cole slaw, tortilla chips, and roasted corn on the cob.
Give the food fun descriptions like Best Rootin' Tootin' Hot Dogs, Best Rib Stickin' Chicken, Crunchiest Cole Slaw, Howlin' Hot Salsa, and Most Sweet Tooth Satisfyin' Dessert.
Form store-bought biscuit dough into the shape of a horseshoe, and bake as directed.
Let guests eat from metal pie plates.
Serve milk, juice, and root beer in bottles or canteens.
Mix a punch out of ginger ale and lime Kool-Aid and call it "Cactus Juice".
Make or purchase star-shaped cookies and write the word "Sheriff" on top in frosting.
Serve chips, cookies or candy in a cowboy hat lined with a bandana.
Fill empty glass jars with candy such as root beer barrels, candy necklaces, pixie sticks, and old fashioned taffy.
Thank your guests for coming to your rodeo with awesome party favors! To find a large variety of cowboy themed party favors, visit our Cowboy party page and click the "Party Favors" tab or the "More Fun Stuff" tab. Some of the favors we have include:
Cowgirl and cowgirl hats
Cowgirl vests
Cowboy/girl stickers and temporary tattoos
Wacky whirlers
Cowboy/girl pencils and notepads
Reusable tote bags
Fun-shaped candy and lollipops