Bowling parties are so much for fun, with any age group so you can be sure everyone will have a ball! The great part of a bowling party is that it will be off-site, so the clean up is super easy. All you have to do is bring your party favors with you, and your guests of course. Parents can either drop their kids off at the bowling alley or stay and watch.
Decorating Ideas for a Bowling Alley Party:
Some locations will set up the food table directly behind the lanes where your guests are bowling. Cover the table with a bowling-themed tablecloth.
Drape red and white streamers along the edges of the food table.
Decorate each lane of your party with a group of balloons to add a festive look. The balloons will also help the children and their parents identify your assigned party area, or return to the right lanes after a bathroom break. For greater impact, combine shaped balloons with colorful latex balloons.
Bowling Party Favor Ideas
Send your guests home from the alley with awesome party favors!
Mini bowling games
Trophies
Bowling pin sipper cups
Bowling pin straws
Bubbles
Reusable tote bags
Fun-shaped candy and lollipops
Creative invitations will excite your guests for your child's birthday party and increase attendance. Take a look at these cool birthday invitations by designer
Eventful Cards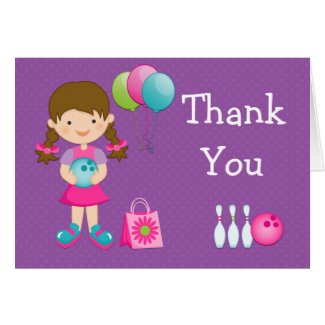 Bowling Birthday Party Thank You Card
by
eventfulcards
Browse other
Bowling Cards